The best way to live and to taste the history of a country is through its cuisine.
The recipes of our young  Chef are made with  top quality products great attention to taste, to smells, to ambience,
in a charming combination between creativity and lightness not forgetting the pleasure of the good food.
Pasta, soups, bread and pastry, everything is  absolutely homemade.
Buffet of vegetables and appetizer will be your daily temptation.
A wide selection of fine Italian wine will enhance our dishes.
A carefull service  (also to children's needs)  will ensure that every meal becomes meal a moment of pleasant satisfaction.
Our SOLARIA SPAzio BENESSERE is open to the public. Guests not staying in the Hotel are welcome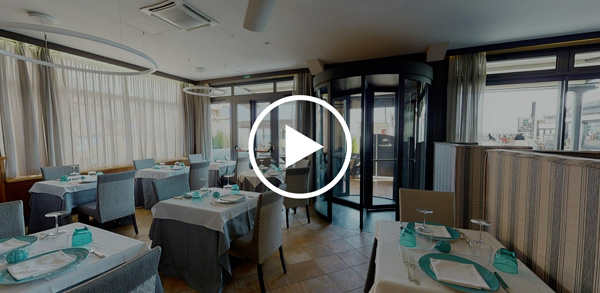 Ligure Blue Restaurant: La Carte
Passion above all else. Tradition and innovation are blended on our Restaurant suggestions excellent seasonal products are cooked with the most modern techniques to enhance flavour and aroma. Excellent seasonal products are cooked with the most modern techniques to enhance flavours and aromas. Don't lose this gastronomic experience!
Half Board and Full Board
The Chef's suggestions for lunch and for dinner is accompanied by a Menù à la Cartè  with a wide choice of meat or fish courses. Fresh  pastas , soups and desserts. Vegetarians or celiac proposal, suggestions  for people who have food intolerances and babies menu. Choosing at morning you would satisfy all your desires from the simplest to the most sophisticated
Breakfast
A good day starts with a good breakfast that's why it is very important for us .
Sweet or salty, dietetic or tasty, light or energetic, on our Buffet you will find every kind of homemade food.
Fresh fruit and juices to begin at best your holiday journey.
Ligure Blue Bar
Ligure Blue Bar Indoor and outdoor environments, the sound of the sea and the sunlight all around, it is the Blue Bar.
Young and casual during the day, at evening thanks to the light of the candles it presents its romantic side.
It offers to its guests the possibility to take a fast lunch, also served at the beach, regenerating fruit extracts, refreshing drinks,
a wide selection of cocktails, an excellent selection of liquors, champagne and wines.
Do you need more information! Contact us!
If you wish more information or if you wish to book, contact us!
We care about satisfaction our customers, so if you need more information or have any special requests please to contact us.